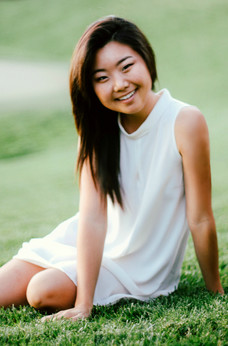 Location
Irvine, California
About Melody Lee
Art is how people share their gifts and passions with the world. For me, I use art to share my ability to depict the various facets of life.
I often use goldfish to represent such dimensions of life. Although goldfish are extremely common house pets, to me, they mean something more profound. Their gold color is understood to symbolize good fortune or even wealth, and yet their small size and fragile fins represent delicacy and their need for constant, attentive care. By incorporating these characteristics into my artworks, I get the chance to explore similar qualities embedded in the human character: materialistic and worldly desires, delicacy and fragility, or innocence and responsibility. I hope using the goldfish will help people to better visualize such important ideas and walk away with newfound inspiration.
In illustrating my pieces, I mainly tend to use acrylic. It allows me to apply opaque layers that intensify the rich colors of my subjects such as the goldfish. However, I am undeniably fascinated by other media including clay, oil paint, and watercolor.
I hope to continue making art and encouraging others about my understanding of life.
*Photo credits to David Hwang (OCSA '15)
About Project TAPIA
"Take a Part in Art"
As a visual arts student at the Orange County School of the Arts, I have developed a desire to advocate for arts education around my community. By participating in a video contest hosted by California Alliance for the Arts Education, I was able to donate the winnings of the contest, Adobe video editing software, to students of FilamuJuani, a film school based in Kenya. By working closely with faculty, I was given the privilege of initiating a pen-pal program between OCSA and students at our sister school in Varaspamba, Ecuador.

Such experiences have allowed me to see how important an arts education is. I have witnessed so many diverse students actively use their talents, develop passions, and express them with others. I am confident that no matter where a person comes from, art can have an indescribable impact on their life.
For the past 3 years, I have shared this dream during my school's annual Freshman Retreat. I have taught how art can be better implemented in a community, such as through benefit concerts, and I have encouraged younger students to continue one of the biggest goals in my life: to let others see the power of art, help unlock their talents, and then encourage them to share their findings with others.
I love inspiring people everywhere to take a part in the arts.
https://www.youtube.com/watch?v=Kpo_diUBnwM
Resume
Summary:
Visual Arts student at the Orange County School of the Arts and eleven-year Girl Scout Ambassador who leverages excellent communication, leadership, organization, and networking skills to offer opportunities for students to use their talent in the arts to make an impact on the community.
Highlights:
Recipient of Girl Scout Bronze, Silver, and Gold Award

Recipient of the President's Volunteer Service Award: Bronze, Silver, Gold, Gold, Gold

Recipient of the President's Education Award: Gold

Organized OCSA Ted Talk Event, OCSA Food Survey, and other community outreach events as Student Body Co-President

History of Art and Painting course at Yale University Summer of 2014

Languages: English (Fluent), Korean (Fluent), Spanish (Elementary)
Education:
Orange County School of the ArtsSanta Ana, CA — 2011-2015

Accomplishments
Student Body Co-President

The Seal of Biliteracy

2012-present: Leadership Class: Campus-event coordinator

Principal's list award for having 4.0+ GPA in 2012, 2013, and 2014

2012-present: California Scholarship Federation (College/Career Event Coordinator)

2012-present: National Honors Society (Secretary)
School of Fine & Media Arts
Recipient of Most Inspirational Award in 2010, Most Talented Award in 2010, 2011, 2012, 2013, and Director's Choice Award in 2014.

Classes taken: Beg Computer Graphics, Beg Ceramics, Beg Drawing, Beg Figure, Beg Oil Painting, Adv Drawing, Adv Figure, Printmaking, Mixed Media, Watercolor, Color Theory, Animal Drawing, Landscape Painting, and Mural Painting.
Activities:
School-related Activities:
Clubs:
2012-2013: Hope Club (Secretary)

2012-2014: Club TAPIA (President)

2012-present: Visual Arts Club

2012-present: Leadership Forum (Co-president)
Other:
2012-present: Camp OCSA counselor

2012-present: Buddy/mentor program coordinator

2013-present: Visual Arts Editor of OCSA Inkblot Magazine

2013-2014: Ocsa-Haiyan Benefit Concert Coordinator

2014: Initiator of Pen-pal Project with students in Varaspamba, Ecuador
Extra-curricular Activities:
2003-present: Girl Scouts of Orange County (Girl Delegate Advisor)

2012-present: Youth Leader at Disciple Community Church
Awards and Honors:
Second place recipient of Elks National Foundation Scholarship

Recipient of six congressional awards (5 from Girl Scouts, 1 from Hope Club)

Certificate of Recognition from the City of Irvine for excellent citizenship
Orange County Fair Visual Arts Competition: Best of Show, Best of Class, Division Winner, LCAD Scholarship Recipient in 2014

First place winner of the California Alliance for the Arts Education Student Voice Campaign video contest
First place in Korean American Art contest

Mural painting at OCSA in 2014
Work and Experience:
2013-current: Stmbt Apparel/Sticker Designer

Designer and distributor of products

2014-current: Biotechnology Workshop Assistant at Fullerton Community College

Teach sterilization technique, solution preparation, culture media preparation, agar plate pouring, and micro-pipetting

2014-current: Studio Internship at Shu-chih's Art Studio in Irvine, CA
Should you have any questions, please feel free to contact me! I'd be more than happy to answer any questions you may have.